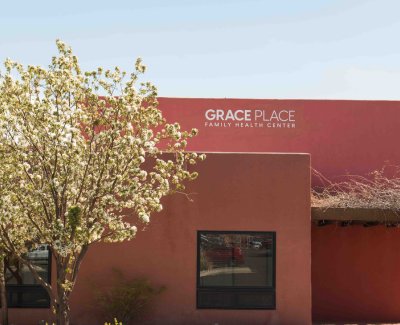 Grace Place Family Health Center
in Farmington, NM
Grace Place Family Health Center has served clients in the Four Corners Region for over 30 years, and we are becoming the most trusted option for safe, compassionate care for women, men, and families across the Four Corners when facing an unexpected pregnancy. We're committed to providing no-cost, no-judgment access to pregnancy testing, ultrasound, options consultation, and educational health services to women and men of the Four Corners Region in a compassionate and respectful practice.
We Put Our Clients First
We believe women, men, and families in the Four Corners Region who are facing unexpected pregnancy deserve access to testing, consultation, and educational services conducted with respect and compassion. This starts with creating a safe, comfortable, and confidential environment at our Farmington, NM clinic.
Clients are served without regard to age, race, income, nationality, religious affiliation, disability, or other circumstances.
Quality Medical Services
Our medical services are provided in accordance with all applicable laws, and in accordance with pertinent medical standards, under the supervision and direction of a licensed physician.
Pregnancy and STI tests are distributed and administered in accordance with all applicable laws. Tests are confirmed by a Medical Director and results verified by a Registered Nurse (RN).
Limited ultrasound scans are performed by a qualified medical professional to confirm the presence of a viable, uterine pregnancy. We do not use ultrasound to determine gender or diagnose abnormalities. Eligibility criteria apply.
Confidentiality
Client information is held in strict and absolute confidence. Releases and permissions are obtained appropriately. Client information is only disclosed as required by law and when necessary to protect the client or others against imminent harm.
Accurate Information
We are committed to distributing accurate information about pregnancy, fetal development, lifestyle issues, and related concerns. Clients always receive honest and open answers to their questions.
We do not offer, recommend, or refer for abortion, abortifacients, or contraceptives. We are committed to offering accurate information about related risks and procedures.
All of our staff, board members, and volunteers receive appropriate training to uphold these standards.
Have questions or want to book an appointment? Contact us